Welcome Peanut Butter Lovers!
SOS and Whole Earth are joining forces to make Sumatra's forests whole again. We are re-wilding and restoring part of the Leuser landscape – the only place in the world where orangutans, tigers, elephants and rhinos roam together in the wild.
Sign up to our e-news and enter to win a year's supply of peanut butter!
Welcome Peanut Butter Lovers!
Thank you for visiting us – we are really happy to have you.
Here at SOS, we are all about protecting critically endangered orangutans, their forests and their future. This year, together with our friends at Whole Earth and thousands of people like you, we will support forest-edge communities in Sumatra to plant 50,000 trees to help rewild some of the most important rainforest on the planet.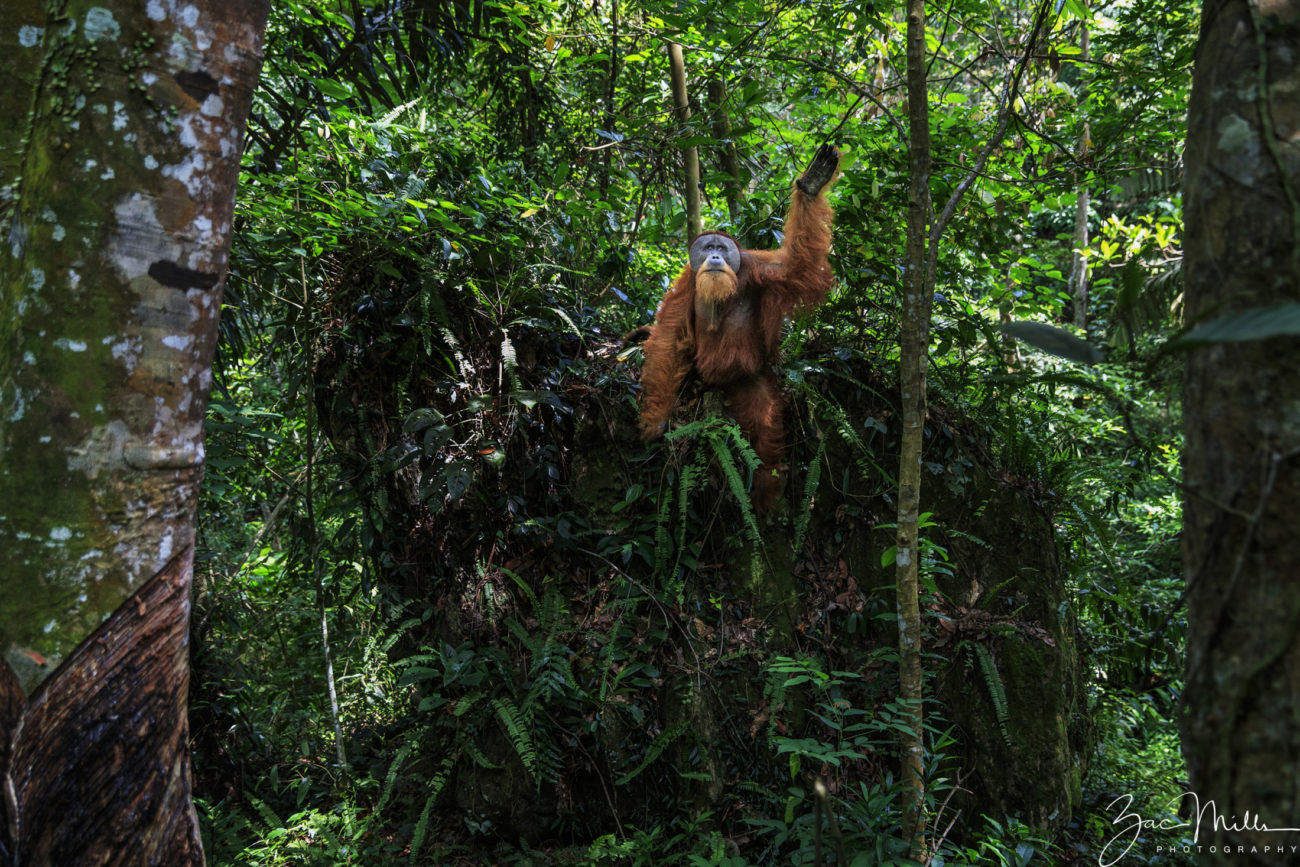 Orangutans spend almost all of their lives living up in the tree canopy. But over the past twenty years, the rainforest in Sumatra has been shrinking, cut down for logging and farmlands and to make way for roads.
Without safe forests, there is no future for orangutans in Sumatra – one of only two places on the planet where these magnificent creatures live in the wild.
Since 2001 SOS has been working to secure the future for orangutans. We have supported our grassroots NGO partners and forest-edge communities to plant more than 2 million trees and to rescue and relocate 200 orangutans who were stranded and in danger.
We are making progress, but there is still so much to do. And at SOS we have really big plans over the next ten years. We are conservation optimists, convinced we have all the right tools and expertise to ensure that wild orangutans can look forward to a future where they can thrive in safe and healthy forests.
We'd love you to join us! Sign up to our e-news to keep up to date with our plans, successes and challenges along the way – as well as learn more about how you can help. If you sign up before the end of March 2022 you will also be entered into a competition* to win ONE YEAR'S SUPPLY OF GOLDEN RAINFOREST PEANUT BUTTER!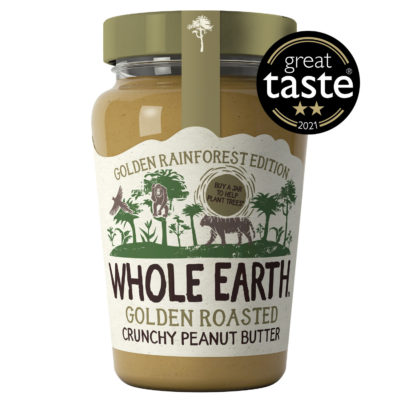 Every jar of Golden Rainforest Peanut Butter sold in 2022 will help to plant 50,000 trees in the Sumatran rainforest so orangutans can thrive into the future – please do spread the love among your family, friends and fellow peanut butter fans. Together, we can help stop the orangutans on Sumatra from becoming extinct.
Sign up now
You're helping us plant trees in Sumatra🌲🌲🌲🌲🌲🌲🌲🌲🌲🌲🌲🌲🌲🌲🌲🌲🌲🌲🌲🌲🌲🌲🌲🌲🌲🌲🌲🌲🌲First nameLast nameEmail
If you give consent for us to contact you here, we will send you occasional emails about our work, including project information, campaigns and other ways to help.
We promise not to inundate you! We'll store your details in our secure database and never pass your email address on to anybody else. Click here for full privacy policy.Sign up
Securing the future for orangutans and their forests
Orangutans need trees…and so do we!
Orangutans spend their lives in the trees, even building a nest each night to sleep in, high in the forest canopy. They need connected landscapes with a variety of tree species to ensure the forest can provide the space to move, feed and breed. Along with thousands of other species that live in the forest like elephants, tigers, sun bears, rhinos and countless insects and birds, people in Sumatra need the forests too. More than four million people rely on the forests for food, building materials, medicines and climate control. Healthy forest regulates rainfall, controls flooding, and helps in the global fight against climate change.
Working with forest-edge communities, frontline partner NGO's, and local authorities, SOS is on a mission to protect almost 2 million hectares of Sumatran rainforest by 2030.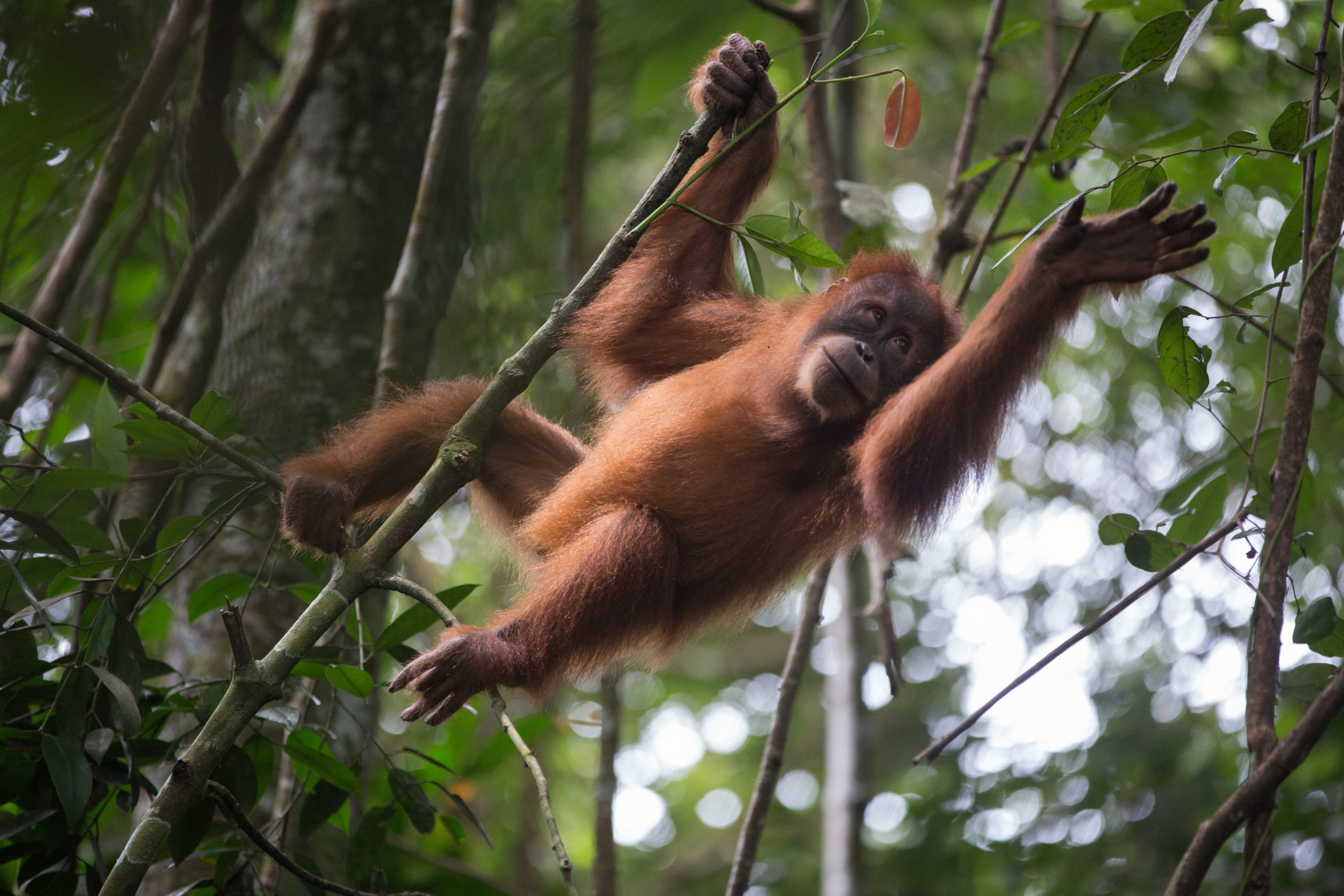 Orangutans are key to keeping the rainforests healthy
Every species that lives in the rainforest has a role to play in the health of the ecosystem. But orangutans are truly the 'gardeners of the forest'. They move through the tree canopy eating hundreds of different types of fruit like figs, mangoes, and durian. As they move to feed, they spread seeds across the forest floor in their dung, helping new fruit trees to grow and keeping the forest diverse and healthy. As they are always moving, they make a new nest each night before they sleep, breaking branches to fold into their nest and letting light through the thick forest canopy to reach the young seedlings on the forest floor.
SOS has undertaken detailed mapping of the remaining rainforest in Sumatra to identify where the continuous forest landscape has been interrupted by tree loss, making it impossible for orangutans to thrive. We are working to reconnect these areas of the landscape and will support forest-edge communities and farmers to plant and care for 10 million trees by 2030.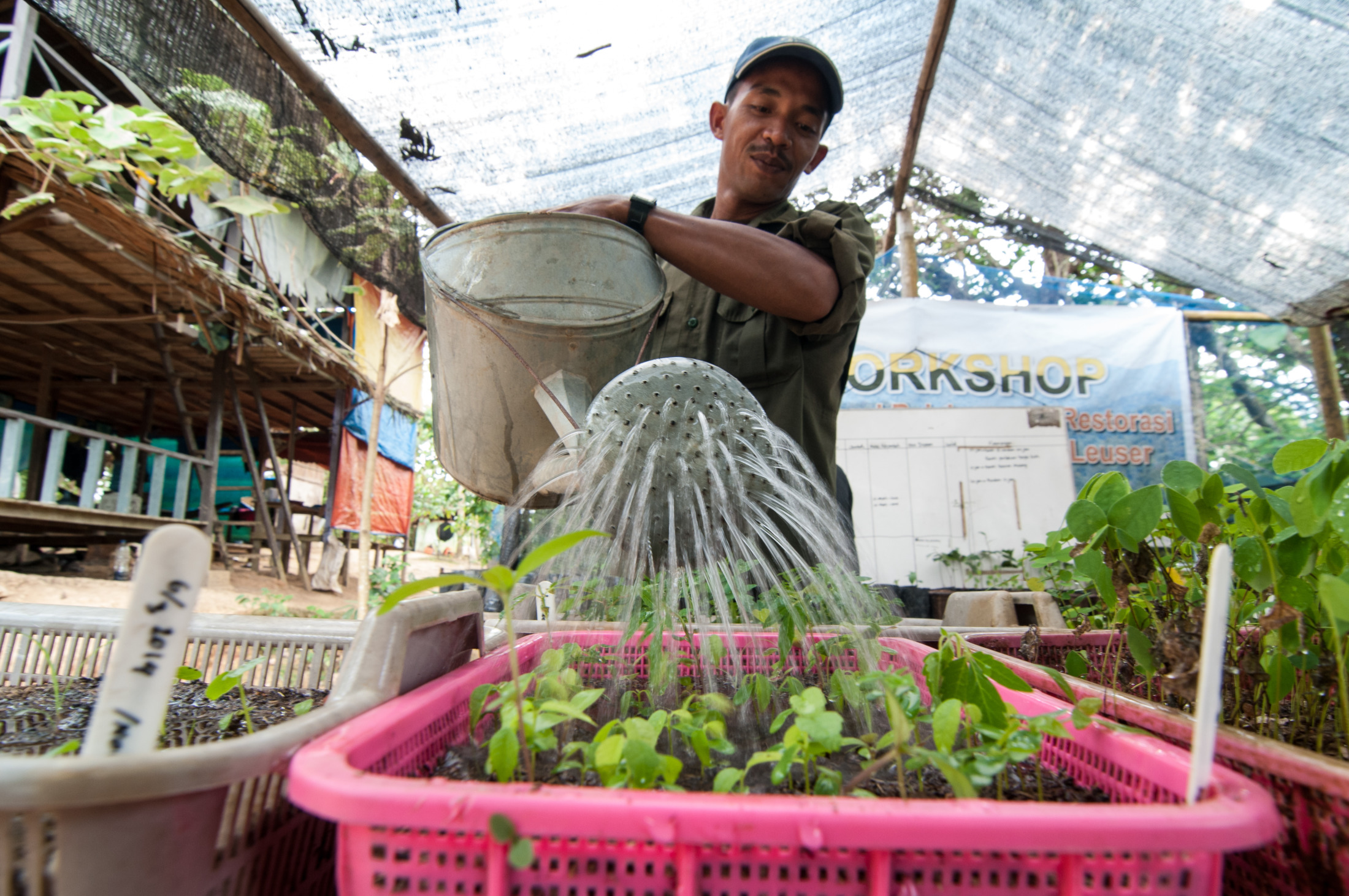 People of the forest
At SOS we know that the communities who live next to the orangutans' forest home are best placed to become Guardians of their forest, so we are working with villages across Sumatra to train people, with a focus on women, to set up and run tree nurseries. We employ these villagers to grow the right trees for their area of forest and to plant and nurture the young trees where they are needed to rewild degraded areas and provide food and nesting sites for orangutans in the future. By 2030 we will have rewilded 10,000 hectares of orangutan landscape (that's about the size of 10,000 rugby pitches!).