We will avoid the worst impacts of a warming world if we move at the pace and scale demanded by the enormity of the climate crisis and if solutions are lasting. Two critical building blocks for durable change are that, at a local level, people and communities most directly impacted have authority in decision-making, and at global scale, pledges of action are anchored in strong accountability practices.
An array of organizations and networks working for these climate solutions are poised for rapid growth, but investment to date has been scant, including from philanthropy. With its recent announcement of $443 million in new grants focused on these areas, the Bezos Earth Fund is meeting the moment by helping to close a critical funding gap and illuminate opportunities for others in philanthropy to support effective climate solutions.
The Earth Fund's vital support to these historically underfunded areas will help boost efforts to protect the planet and people for generations to come. As part of these Earth Fund grants, ClimateWorks, a member foundation of the Climate and Land Use Alliance (CLUA), is excited to serve as the sponsor for support to The International Land and Forest Tenure Facility and Climate Action Tracker.
New support to secure Indigenous Peoples' land and forest rights
The Earth Fund has granted a total of $30 million for The International Land and Forest Tenure Facility to advance Indigenous Peoples' land tenure rights and the role of local communities and organizations in conservation in the Congo Basin (the Democratic Republic of the Congo, Gabon, and the Republic of the Congo) and the Tropical Andes (Colombia, Ecuador, Peru, and Bolivia).
The International Land and Forest Tenure Facility is the first financial mechanism to exclusively fund projects working toward securing land and forest rights for Indigenous Peoples and local communities while reducing conflict, driving development, improving global human rights, and mitigating the impacts of climate change. The Tenure Facility provides funding at scale directly to communities and their partners to build relationships with key actors within government and the private sector and provide the technical expertise required to implement tenure rights within existing laws and policy. In addition to the newly announced support from the Earth Fund, The Tenure Facility is supported by several donors, including the Swedish International Development Cooperation Agency, Norad, and the Ford Foundation.
"Indigenous Peoples' and local communities' land rights are pivotal to biodiverse forest protection, strengthening direct local actors in equitable partnerships towards sustainable climate solutions," said Nonette Royo, executive director of Tenure Facility.
"The Tenure Facility's work to help secure community tenure rights in the Congo Basin and Tropical Andes and progress towards sustainable land use as part of the global response to climate change is critically important. We are excited to see the Earth Fund and ClimateWorks' support for funding Indigenous and local communities securing tenure to their forests and lands." — Nonette Royo, executive director of the Tenure Facility
Specifically, the Earth Fund grants will support Indigenous Peoples and local community groups to secure by 2026 the titles to 5 million hectares of land in the Andes and 1 million hectares of land in the Congo. The Tenure Facility will provide direct financial and technical support to organizations and networks on the ground, enabling them to build partnerships with champions in governments to advance the legal recognition of collective land rights.
Bolstering accountability and transparency in meeting global climate goals
The Earth Fund has also granted $1.2 million to support the Climate Action Tracker (CAT), an independent scientific analysis that tracks government climate action and measures it against the globally agreed-upon Paris Agreement aim of "holding warming well below 2°C, and pursuing efforts to limit warming to 1.5°C."
A collaboration of two organizations, Climate Analytics and NewClimate Institute, the data gathered and disseminated through CAT is essential to tracking the necessary transformations required to meet climate and nature goals. One of its recent reports, for example, highlighted the credibility and action gap between nations' ambitious 2030 commitments and policy implementation.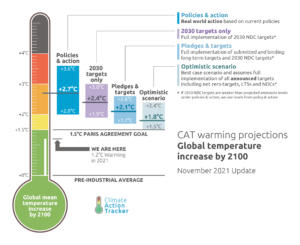 "Climate Action Tracker follows the progress of countries responsible for over 80% of global emissions to understand the effect of climate policies and action on emissions, and whether governments are doing their fair share to limit warming in accordance with the Paris Agreement goals," said Surabi Menon, vice president, Global Intelligence at ClimateWorks. "As the pathways to limit warming to 1.5C narrow, it is important for policymakers and climate advocates alike to understand where emissions gaps exist and how policies and action can help close the gap. Climate Action Tracker is an invaluable resource, helping to increase transparency and accountability of governments worldwide."
The Earth Fund grant will support CAT's work to track progress toward transformations required in the energy sector, including identifying the indicators and datasets most appropriate for understanding advancements in energy, buildings, industry, and transport, as well as the establishment of new science-based benchmarks for these sectors. These data will be showcased on a data visualization platform, the Systems Change Lab. CAT will also contribute to knowledge products and narratives related to the state of climate action.
The Tenure Facility and Climate Action Tracker are examples of work that can be scaled to help keep the planet within a safe range of warming. We are proud to partner with the Earth Fund and support these organizations' efforts to accelerate climate action worldwide.